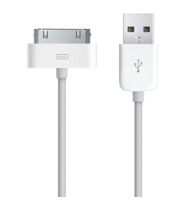 Use the Dock Connector to USB Cable to charge and sync your iPhone or iPod with your Mac or Windows PC.
Overview
This USB 2.0 cable connects your iPhone or iPod — directly or through a Dock — to your computer's USB port for efficient syncing and charging or to the Apple USB Power Adapter for convenient charging from a wall outlet.
This site is a demo site only. This product is not available for sale at our site.
But you can buy it at
Amazon
or
Apple Store
, this is where we took description from.