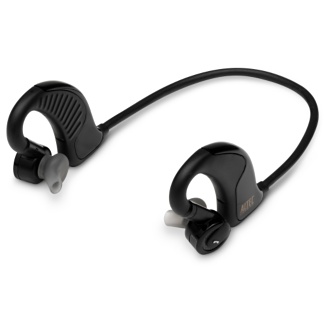 For a superior on-the-go listening experience, the BackBeat 906 headphones give you outstanding sound quality and clear, convenient communications thanks to a built-in microphone. Even better, they include a Bluetooth adapter that lets you stream music wirelessly from your iPod or other audio device.
Enjoy your music without headphone cords
Built-in mic lets you switch to calls on your iPhone
Impressively boosted bass
Adjustable headset for optimal comfort
Overview
The BackBeat 906 stereo headphones deliver rich, full-spectrum stereo music along with Plantronics dual-mic AudioIQ voice technology for exceptional call clarity. And for the ultimate in wireless convenience, they offer a Bluetooth adapter for your iPod or other audio device.
Stay in control
Hear the world outside with a quick tap of the OpenMic button on the eartip or enhance your music using bass-boost feature. You can also adjust the volume or change tracks with other eartip controls.
Take comfort to the max
Personalize your fit with telescoping and swivel adjustments, not to mention the elimination of dangling cords.
Features
Wirelessly listen to music as you walk, run, work or play
Separate your voice from the noise using dual-mic AudioIQ technology
Hear your outside world with a quick press of the OpenMic button
Enjoy the full dynamic range of your music using bass-boost feature
Personalize your fit with telescoping and swivel adjustments
Easily store this flexible design in your pocket or bag
Did you notice?
Bluetooth adapter lets you listen to music from your iPod without a headphone cord.
Apple recommends for...
Enjoying the rich stereo sound of the music on your iPod while engaged in activities where headphone cords get in the way.
Technical specifications
Noise isolation: Contoured, non-occluding eartips
Input sensitivity: 91 dB SPL/V @ 1 kHz
Frequency response: 80 Hz - 12 kHz (-10 dB)
Impedance: 17 Ohms
Speaker: 14mm with enhanced bass
Input connector: Stereo Bluetooth adapter with 3.5mm plug
Weight: 1.2 oz./34.02 g
What's in the box?
Altec Lansing BackBeat 906 Wireless Headphones
Bluetooth adapter
AC charger with Micro-USB connectors
This site is a demo site only. This product is not available for sale at our site.
But you can buy it at
Amazon
, this is where we took description from.