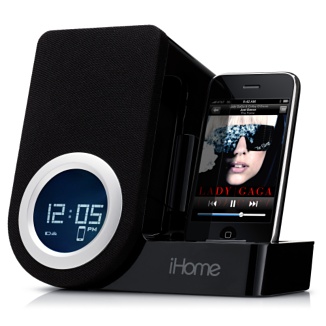 Easily watch videos in landscape mode on your iPhone or iPod simply by rotating the iHome iP41. Also wake and sleep to the music on your iPhone or iPod. You can rest assured you'll get great sound.
Charge and play your iPhone or iPod
Wake and sleep to iPod or iPhone
Watch videos on your iPhone or iPod
Overview
Dock your iPhone or iPod and listen to the sound of your favorite music—beautifully reproduced by the iP41's Reson8 speaker technology and EXB expanded bass circuitry.
Wake and sleep to your music or videos
Now you can wake to a choice of music or videos on your iPhone or iPod. If you want to see the video in full screen mode, just rotate the iP41 onto its side.
Features
Innovative design works upright or on its side
Wake or sleep to iPhone or iPod
Reson8 speaker technology for great sound in a compact unit
Universal dock charges your iPhone or iPod while it plays
EXB sound circuitry for extra bass power
DST switch for fast changes at start and end of Daylight Saving Time
Line-in jack to listen to other audio devices
Sleek space-saving design
Alarm reset turns off alarm and automatically rests it for same time the next day
Optional remote (sold separately) controls unit, navigates iPhone and iPod music functions
Did you notice?
When you change the orientation of the overall unit, the LCD clock display also shifts so it's still easily readable.
Apple Recommends for...
Anyone who wants to occasionally watch a widescreen video on their iPhone or iPod while it's in the dock.
Technical specifications
Dimensions (HxWxD): 6.29 x 6.45 x 3.34 in./16.0 x 16.4 x 8.5 cm
Weight: 1.5 lb./0.68 kg
What's in the box?
iHome iP41 Rotating Alarm Clock
Dock inserts to fit iPhone and specific iPod models
AC adapter
iPod nano and iPhone support cradles
Warranty
One-year limited. (For details, please visit, www.iHomeaudio.com.)
Mfr. Part No.: iP41BC
This site is a demo site only. This product is not available for sale at our site.
But you can buy it at
Amazon
, this is where we took description from.