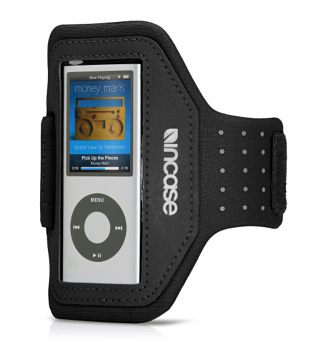 Perfect for your active lifestyle, the Sports Armband is crafted for complete functionality and protection of your iPod nano. Offering a clear cover for complete access to the iPod screen and controls, this armband gives you a high-performance case that also delivers high functionality.
Form-fitting neoprene construction
Quick and easy access to your iPod nano
Direct access to all iPod nano features, including click wheel, heaphone jack, and dock connector
Overview
Constructed of lightweight, washable neoprene and reflective materials, the adjustable Incase Sports Armband is the functional and secure way to carry the iPod nano during your run or workout. The heavy-duty Velcro adjustment provides for a universal fit, while the clear cover allows convenient access to all the controls.
Features
Complete iPod protection
Form-fitting, washable neoprene construction
Reflective material for enhanced visibility in dark environments
Velcro adjustment for universal fit
Easy access to headphone jack, hold switch, and dock connector
This site is a demo site only. This product is not available for sale at our site.
But you can buy it at
Amazon
, this is where we took description from.