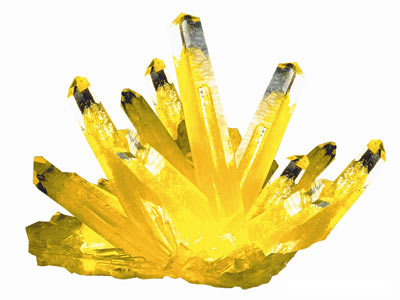 Space Age meets New Age
Since the dawn of time, shiny things have intrigued humankind. And ever since the first ape walked into a jewelry store, humans have loved crystals. They are delicate, they are beautiful, and understanding them is a key to advancing almost every branch of science. Now you can learn all about the beauty and wonder of crystals as you grow your own!
This kit has everything you need to grow 4 different types of crystal formations. Three of them grow in clusters and the fourth is a solitary crystal specimen. Growing crystals is super easy too, so you'll be having fun and enjoying the glittering fruits of your labor in hours and days (which is incredible considering it takes the Earth millions and millions of years). Take that, Planet Earth! And this crystal kit is the gift that keeps on giving, as once you've made your crystals, you can share (or sell) them. Learning and profit all rolled into one - isn't science grand?
Please Note: This kit also teaches you not to drink or eat chemicals included in crystal growing kits (so don't do it).
Crystal Growing Kit
Grow your own space age crystals: 1 single crystal and 3 different crystal clusters
Includes: 1 bag of "Citrine" growing chemical (monoammonium phosphate), 1 bag of "Ruby" growing chemical (potassium aluminum sulfate), 3 crystal growing trays, 2 spatulas, instructions, and illustrated information booklet
Crystals grow up to 4" in diameter, but can be transferred into larger containers to continue growth
Recommended for ages 12 and up
This site is a demo site only. This product is not available for sale at our site.
But you can buy it at
ThinkGeek.com
, this is where we took description from.