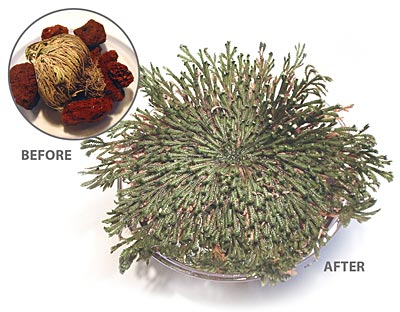 A Pre-historic Evergreen That Just Won't Die
This one-of-a-kind plant has lived on the Earth for over 290 million years and has the ability to "come back to life" (much like the undead) over and over again for hundreds of years! Simply place this seemingly dead ball of foliage in water and within hours it transforms into a vibrant green blood-sucking evergreen. Ok, we are kidding about the blood-sucking part. It's still amazing though! It's also great for lazy folks since you can forget to water your Dinosaur plant whenever you want! It will simply dry up and hibernate for up to fifty years and will spring to life every time it is given water.
Some Interesting Tidbits about your Dinosaur Plant:
During the Carboniferous period these plants used to grow over 120 feet tall (bigger than a T-rex)
When dry it curls up into a tight ball so that the wind can easily roll it to a new location or cubicle, hopefully closer to moisture.
Retains 3% of its water when it is dehydrated.
Grows to be about 4"
Enjoys life so much it survived the Ice Age
Kit includes:
Live Dinosaur Plant (Selaginella Lepidophylla)
Bag of genuine Volcanic Lava Rock
Display Bowl
This site is a demo site only. This product is not available for sale at our site.
But you can buy it at
ThinkGeek.com
, this is where we took description from.