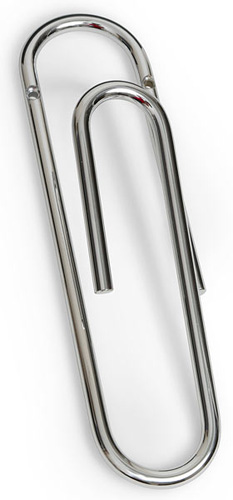 For your hang-ups
Paper clips are one of the greatest inventions of humankind. With the one exception of trying to help you using office productivity software (you know what we mean), the paper clip can do no wrong. Sure it can hold paper together, but as MacGuyver has shown, it can do oh so much more. Need to pick a lock? Paper clip. Gotta diffuse a bomb in a hurry? Paper Clip! Need to hang up your coat in style? Giant Paper Clip Hook!
Let a Giant Paper Clip Hook hang proudly on your wall as a testament to the wonders of the paper clip. Hang your coat or hat on it proudly. But don't forget the multifaceted marvel that is the paper clip; even this bigger version has multiple uses. The Giant Paper Clip Hook could be a great hanging point for your Spider-Man action figures - or an effigy of your evil boss. The choice is up to you.
Giant Paper Clip Hook
Mount to your wall, and then use the power of a paper clip to hold your coats.
Includes:Paper Clip Hook and mounting hardware.
Dimensions: 11" x 3"
This site is a demo site only. This product is not available for sale at our site.
But you can buy it at
ThinkGeek Cube Goodies
, this is where we took description from.