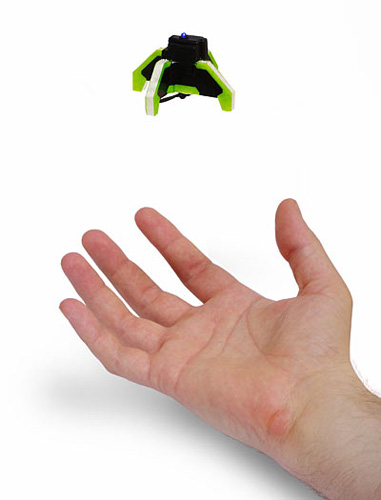 Smallest Flying R/C Device Ever
When highly evolved nano-aliens descend upon our planet to mine our plethora of carbon monoxide gasses they'll surely be piloting something like this MicroFly Hovering UFO. This is by far the smallest flying R/C device we've ever seen and it's damn impressive in the air.
With a diameter not much larger than a silver dollar and a single propeller on the bottom, the MicroFly somehow manages to hover in the air as it spins and flashes its blue LED. The simple slider control allows only up-and down movement... but this makes it so easy to fly that anyone can instantly control it. Buy a few and create your own buzzing alien insect swarm... they use the same channel so you can control multiple MicroFly units from one remote.
MicroFly Tiny R/C Hovering UFO In Action
Product Features
Incredibly tiny flying r/c toy looks like a Mini-UFO
Up/Down slider on remote controls hovering height
Blue flashing LED on the top
Charges from remote
10 minute charge time. 5-7 minute fly time.
Requires 6 AA batteries (not included)
Dimensions: 65mm in diameter, 35mm high
This site is a demo site only. This product is not available for sale at our site.
But you can buy it at
ThinkGeek.com
, this is where we took description from.