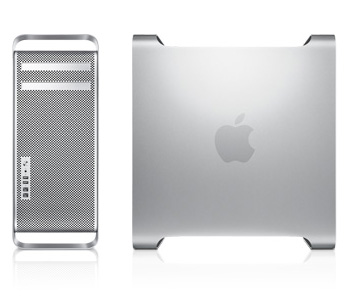 Quad-Core
One 2.66GHz Quad-Core Intel Xeon "Nehalem" processor
3GB (three 1GB) memory
640GB hard drive
18x double-layer SuperDrive
NVIDIA GeForce GT 120 with 512MB
8-Core
Two 2.26GHz Quad-Core Intel Xeon "Nehalem" processors
6GB (six 1GB) memory
640GB hard drive
18x double-layer SuperDrive
NVIDIA GeForce GT 120 with 512MB
Beauty outside. Beast inside.
Next-generation Intel architecture.
Get nearly 2x faster performance with the new Mac Pro, now powered by all-new Quad-Core Intel Xeon "Nehalem" processors. With a new system architecture, 8MB of fully shared L3 cache, an integrated memory controller, and 1066MHz DDR3 ECC memory, these processors deliver up to 2.4x greater memory bandwidth. And new Turbo Boost technology speeds up the processor when all cores aren't in use.
Faster, more flexible graphics.
The new Mac Pro features the fastest graphics ever on a Mac. Its standard configuration includes the up to 2.9x faster NVIDIA GeForce GT 120 with 512MB of GDDR3 memory. For even greater performance — up to 2x more — upgrade to the ATI Radeon HD 4870.
Flexible display options.
With a Mini DisplayPort and dual-link DVI port on every graphics card and room for up to four cards, the new Mac Pro provides dozens of display options.
Redesigned interior.
Easier expansion.
A completely redesigned interior makes it even easier to access and upgrade your Mac Pro. Snap in up to 32GB of memory. Pop in up to four PCI Express 2.0 expansion cards. Slide in up to 4TB of storage. Add in the new, easier-to-install Mac Pro RAID Card. All without turning the system over or struggling with tight spaces.
This site is a demo site only. This product is not available for sale at our site.
But you can buy it at
Amazon
or
Apple Store
, this is where we took description from.