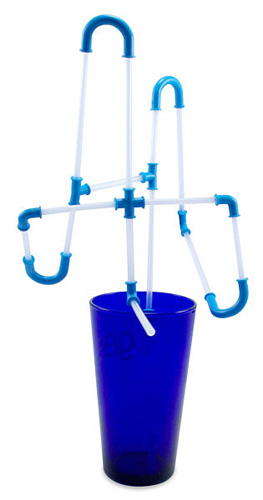 Suck it!
Liquids are fun outside your body (like swimming in a lake or pre-set grape gelatin) and they are fun inside your body (like Bawls, Jolt, and the occasional Zima - just kidding). But really, the big problem comes when deciding how to make fun liquid get from outside your body to inside your body. Our favorite method is drinking. And when we drink, we like using straws. But sometimes a straight straw is boring. So we combined a few chemicals in a test tube and DIY Drinking Strawz were born.
Composed of 44 dishwasher safe components, DIY Drinking Strawz guarantee that liquids get into your body exactly how you want them to. Want to mix drinks? Well, then build your straw to dip into two (or more) cups. Want to share? Then build an extra drinking branch. Want to mix drinks AND share? You can do that too!!! Amazing, ain't it? And hey, if you want to go nuts and really suck, you can buy more than one set and make a mondo-gigantic straw. You could be the Suck-Meister.
Includes 44 dishwasher safe pieces: 20 flexible rubber connectors and 24 translucent straw pieces (12 - 5" strawz and 12 - 2.875" strawz).
Please Note: Colors may vary from those shown.
This site is a demo site only. This product is not available for sale at our site.
But you can buy it at
ThinkGeek Cube Goodies
, this is where we took description from.