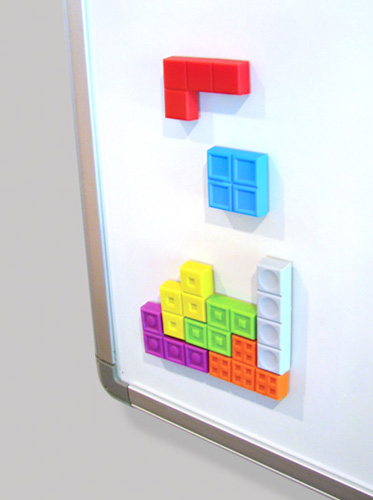 Puzzle Gaming for your Fridge
Bring some classic puzzle style gaming to your fridge or whiteboard with this set of seven colorful magnets. Perfect for holding up your TPS reports, carry-out pizza menus and notes to self to "play more puzzle games", these magnets fit together in a most pleasing manner. Just watch out for when you've stacked up all your pieces and are just waiting for that one long rod to clear four rows at once... when you realize these are only magnets.
Product Features
Puzzle gaming style magnets stick to most ferrous surfaces
Perfect for your fridge or whiteboard
Set of seven magnets
Each magnet approximately 1" high
This site is a demo site only. This product is not available for sale at our site.
But you can buy it at
ThinkGeek Cube Goodies
, this is where we took description from.