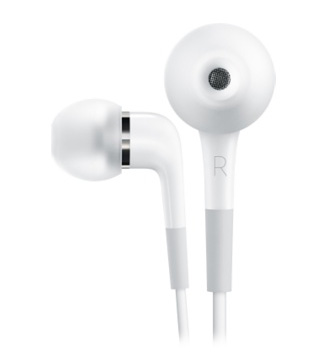 Hear every detail of your music every time you tune in with the Apple In-Ear Headphones with Remote and Mic. They offer pro audio performance and impressive sound isolation, and convenient buttons let you adjust the volume, control music and video playback and even answer or end calls on your iPhone.
Overview
Rediscover your music.
Put on the Apple In-Ear Headphones, select your favorite track, and hear musical details you never knew existed. It's almost like you're experiencing your music for the first time.
Two drivers in each earpiece.
Each earpiece contains two separate high-performance drivers — a woofer and a tweeter — resulting in rich, detailed, and accurate sound reproduction and amazing bass response for all types of music.
Impressive sound isolation.
Choose from three sizes of soft, silicone ear tips for a comfortable, stable fit. When inserted in your ear, they create a seal that blocks outside noise so you can get the most from your music.
Take control.
The control capsule located on the cable of the right earpiece includes a microphone and three buttons. Here's what you can do with this convenient remote:*
Adjust volume by pressing the + and - buttons.
Control music and video playback — including play/pause and next/previous — by pressing the center button.
Record voice memos on supported devices.
Answer and end calls.
Steel mesh caps for protection.
Stainless steel mesh caps protect the precision acoustic components from dust and debris. You can remove the caps for cleaning or replace them with an extra set that's included in the box.
What's in the Box
Apple In-Ear Headphones with Remote and Mic
Carrying case
Three sets of silicone ear tips (small, medium, large)
Two replacement mesh caps
Technical Specifications
Frequency response: 5Hz to 21kHz
Impedance (at 100Hz): 23 ohms
Sensitivity (at 100Hz): 109 dB SPL/mW
Drivers: Custom two-way balanced armature (woofer and tweeter in each earpiece)
Length and Weight
Cable length: 1065 mm from audio jack to splitter; 330 mm to earpiece
Weight: 0.4 ounce (10.2 grams)
Connector
Four-conductor 3.5 mm audio jack
Compatibility Information
The remote and mic are supported only by iPod nano (4th generation), iPod classic (120GB), iPod touch (2nd generation), and iPhone 3G S. The remote is supported by iPod shuffle (3rd generation). Audio is supported by all iPod models.
Requires software version 1.0.3 for iPod nano (4th generation), 2.0.1 for iPod classic (120GB), and 2.2 or later for iPod touch (2nd generation).
This site is a demo site only. This product is not available for sale at our site.
But you can buy it at
Amazon
or
Apple Store
, this is where we took description from.