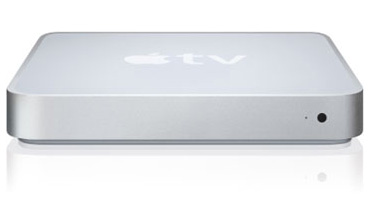 HD movie rentals, HD TV shows, and more. Coming to a widescreen TV near you.
Mac + PC 802.11n;
Wi-Fi wireless;

40GB hard drive for up to 50 hours of video;
OR
160GB hard drive for up to 200 hours of video Apple Remote
HD movie rentals from your living room.
With a few clicks of your remote, you can rent high-definition movies from the same place you watch them: your widescreen TV.
The best TV shows in HD.
Buy your favorite TV shows from leading networks — commercial free — and watch them in stunning HD anytime you want. It's à la carte high definition TV.
All your music and photos, all in one place.
With Apple TV, your home entertainment system becomes the best place to shop the iTunes Store, play your music, and show off digital photos in gorgeous slideshows set to your favorite songs.
What's in the box
Apple TV
Apple Remote
Power cord
Printed documentation
Requirements
Widescreen (16 by 9) enhanced-definition or high-definition television with an HDMI, DVI, or component video input port
Wired or wireless network
iTunes Store account
Broadband Internet connection (fees may apply)
This site is a demo site only. This product is not available for sale at our site.
But you can buy it at
Amazon
or
Apple Store
, this is where we took description from.