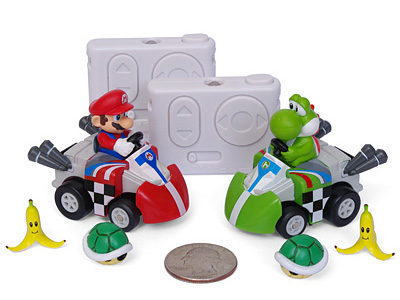 Battle Mode on Your Desk
The days of boring, difficult-to-handle remote control cars are over! Why, you ask? Because the ChoroQ Qsteer Mario Kart R/C Racers have arrived, and neither of those negative descriptions apply! Can't all mini electronic vehicles just get along?
Imported from Japan, these officially licensed Nintendo cars are perfect for the diehard Mario aficionado. Available in either Mario or Yoshi, you can maneuver the cars around the office using your desk as a Grand Prix racetrack, all the while evading your boss. Both styles come in individual channels so you can have your very own Battle Mode right in the discomfort of your own workplace. Even use the Green Shell and Banana accessories to recreate the perfect setting. Thanks, Wii love you too.
Important Note
These ChoroQ racers are imported from Japan, thus the directions are all in Japanese... but never fear young otaku, we have included a handy "Basic Instructions" graphic to help you figure things out.
Product Features
Mini R/C Racers look just like Mario Kart Characters
Imported from Japan
Precision Steering Control and Handling
Turbo Button
Two Different Channels Let you Race with a Friend
Batteries Included
1.75" inches in Length
This site is a demo site only. This product is not available for sale at our site.
But you can buy it at
ThinkGeek.com
, this is where we took description from.