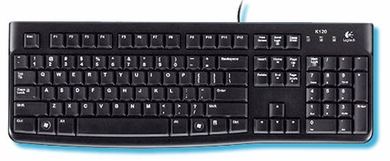 If you need a spill resistant keyboard, this is for you. The Logitech K120 920-002478 keyboard has been tested with up to 60 ml liquid spillage and it kept on clicking. This keyboard's Low-profile keys give you a quiet, comfortable typing experience. Type naturally with the standard keyboard layout you're used to, including full-size F-keys and number pad. The Logitech K120 920-002478 keyboard's thin, sleek design keeps your hands in a relaxed and neutral position for effortless typing. Order your Logitech K120 920-002478 keyboard today!
Spill Resistant Design
Confortable and Quiet Typing
Thin Profile and Sleek Design
Durable Keys--up to 10,000,000 keystrokes
Sturdy and Adjustable Tilt Legs
USB Plug-and-Play
Easy to Read Keys
Curved Spacebar
This site is a demo site only. This product is not available for sale at our site.
But you can buy it at
OutletPC
, this is where we took description from.