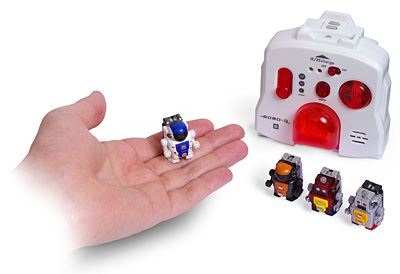 We Welcome Our New Mini Robot Overlords
Here at ThinkGeek we don't discriminate when it comes to robots. Robotic arms, rovers, R2-D2, shiny futuristic robots or old steampunk style robots... we love them all. But when we saw these miniscule Robo-Q robots from Japan it was pure robo-technolust at first sight.
Not only are these the smallest walking robots we've ever seen, they have fully autonomous modes that allows them to avoid obstacles or chase after the included soccer ball. Of course you can also take full control with the included remote, but watch out for the inevitable robot revolt.
Important Note
This product is imported from Japan and the manual is all in Japanese. However it's easy enough to insert the batteries and your mini robot going.
Product Features
Amazingly small robots can avoid obstacles and play soccer
Control your robot directly through the remote
Two autonomous modes: chase the included ball, or avoid obstacles
Full control with three walking speeds and right or left turns
Magnetic charging coupler on remote
Robot is powered by built-in rechargeable LI battery, charges from remote
20 minutes charge time, 5 minutes continuous run time
Robot stores inside remote
Remote requires 4 x AA batteries (not included)
Includes Robot, Remote, Soccer Ball, and Manual (in Japanese)
Four different robot varieties to choose from. Each is on a different channel.
Imported from Japan
Robot height: 3.4cm / 1.33in
This site is a demo site only. This product is not available for sale at our site.
But you can buy it at
ThinkGeek.com
, this is where we took description from.