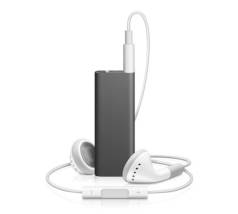 The first music player that talks to you.
4GB
Small gets smaller.
The new iPod shuffle is amazingly small and even easier to use. The controls are now conveniently located on the earbud cord. It's so easy, you can use it with your eyes closed.
VoiceOver. It speaks for itself.
With the press of a button, VoiceOver tells you what song is playing and who's performing it. It tells you the names of your playlists, too.
1000 songs. Multiple playlists.
With 4GB of storage, iPod shuffle can now hold up to 1,000 songs.3 So your music library can go with you. And you can now sync multiple playlists for the perfect mix for any mood.
This site is a demo site only. This product is not available for sale at our site.
But you can buy it at
Amazon
or
Apple Store
, this is where we took description from.
'